Make Working From Home Work For You
Many businesses have reopened their doors, while others have no plans of requiring their workers to report to their on-site locations. Employers are learning some job functions and positions simply cannot be done from home, while others can run entirely within a person's own four walls. We've been working from home for a few months now, and we have compiled some helpful tips for anyone who still hasn't quite gotten the hang of WFH.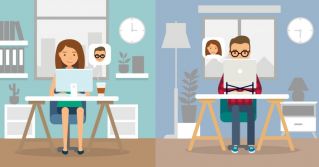 Keep Communication Open. 
Be easy to reach via email or phone call, and respond in a timely manner. This goes for clients, as well as co-workers. Clients can become anxious if they feel they can't reach you, and your co-workers need to know you're accessible if needed. However, it's important to only be available during a certain period of time, which brings us to…
Set Your Hours. 
Working remotely has shown many people they aren't good at working set hours. They'll answer calls from 7 a.m. to 9 p.m. and wonder why they're run down everyday! Give yourself set hours for the day and stick with them. If you're working 9 a.m. to 5 p.m., there should be a hard cut off at 5! And then no more work until your scheduled time the following day!
Become Comfortable with Video Chatting. 
It's 2020, this is how we communicate now. It's time to become familiar with whatever video chatting platform you use, whether it's Zoom, FaceTime, Skype, or Microsoft Teams. By now, you should have found what works for you and your team. If you're not satisfied with your current platform, feel free to switch it up and experiment! This is something we won't be getting rid of anytime soon, so we better get used to it. 
Have Regular Team Meetings. 
Since people are not in and out of your physical location, it's good to have regularly scheduled team meetings to make sure everyone is on the same page. These do not have to be an hour long, but do need to be informative and clear. Did anything significant happen in the past week? Is there something to focus on moving ahead? What's the game plan for the week? You know your business and know what needs to be shared. Make it happen!
Leave The House. 
Make sure you schedule some time for a break. Go for a walk, eat some lunch, get some fresh air, and clear your mind! Don't let WFH make you feel constricted. Just as you would take a break in the office, take a break from your home office, step outside, and refresh yourself. 
We'll keep sharing our WFH tips as we continue setting up, cleaning up, and keeping up with our clients' books from home. We wish you the best of luck!