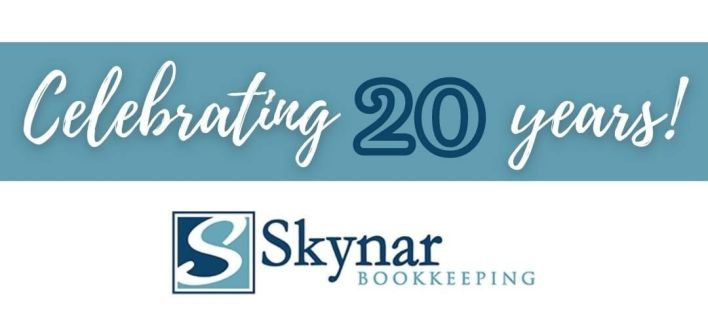 Skynar Bookkeeping Services Celebrates 20 Years
We are thrilled to share that Skynar Bookkeeping Services (SBS) is celebrating twenty years in business! Founded by Cheryl and Tom Skynar in 2002, SBS was created with the goal of helping our clients Set Up, Keep Up, and Clean Up their bookkeeping. We are truly blessed and thankful for all of our past, current, and future clients - without you, we wouldn't be us! We also want to show appreciation to our mentors along the way - we have learned something from each and every one of you, and vendors - we appreciate you working with us throughout the years. Last but certainly not least, our SBS team! Without our team of certified and experienced bookkeepers, we would surely be limited in the services we offer and clients we help. Two decades in and we feel like this is just the beginning!
At SBS, we Set Up, Clean Up, and Keep Up with our clients' books, but what does that mean? We are a small business focused on implementing effective and efficient bookkeeping tactics using the #1 accounting platform for small to mid-size business - QuickBooks. Using this software, we help our clients set up their bookkeeping is they have yet to create or utilize a reputable software like QuickBooks. Once we set up their books according to their specific industry and business, it's time to clean them up. Sometimes people come to us with bookkeeping that hasn't been touched for weeks, months or years, and other times, we are handed books with a tangle of errors and mistakes that we unwind and put into order accordingly. It's our job to ensure your bookkeeping is set up properly and maintained accurately. Then, comes the keep up! We maintain the day-to-day financials if your business and ensure they are logged correctly for future reporting, forecasting, tax season, an unexpected audit, and more.
We understand that keeping your business going can seem like trying to blindly maneuver a maze. For this reason, we strive to take bookkeeping off your plate so you can give your attention to other matters. We'll take the reins on the day-to-day record keeping, weekly reporting, monthly reconciliation, and more. Outsourcing may be one of the greatest decisions you'll make to optimize your business.
We encourage you to visit our website at www.skynarbookkeeping.com to learn more. Our website includes a variety of available resources – YouTube tutorials, FAQs, blogs on endless topics, a breakdown of our services, bios on each team member, the SBS story, and more! If you would like to talk with a member of the SBS team, feel free to shoot us an email and we will get back to you as soon as we can.