The Great Debate: Working At Home vs. In-Office
By: Rachel Himmelspach
Everyone's preferable work environment varies. Some would love to be able to work from the comfort of their own home on their own. Others need the office atmosphere as motivation to get things done, and they appreciate the social aspect of being around others. But, which is better for the employee and the company? Is there a right or a wrong answer? Let's look at the stats.
Fundera reported that two-thirds of managers who allow their employees to work from home say they are overall more productive and 85 percent of employees say they are more productive when they're alone. With technology growing and becoming a regular part of our day-to-day lives, it makes sense that the number of work-at-home employees has increased by 115 percent since 2005, but only seven percent of businesses in the United States allow their employees to work from home.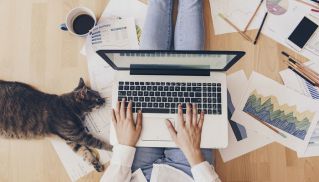 The numbers are in strong support of employees working from home, so why don't more companies allow their employees to take their work home? Each company is different and every positions has different responsibilities; some simply cannot be done from home, so allowing employees to work remotely isn't an option. There's also the unfortunate possibility of employees abusing their at-home privilege, failing to complete their work or communicate in an effective manner.
The debate of whether to allow employees to work from home versus in-office will never be settled. What's best for the employee and the company will change from business to business. However, 82 percent of employees who work from home reported having less stress, and that is a benefit for everyone. Companies that allow working from home at least half the time save $11,000 per year. Who doesn't want to save money? We encourage you to continue your own research and try implementing some sort of remote-work possibility for your employees.