COVID-19

Florida Bookkeepers

MIchigan Bookkeepers

New Normal
What The New Normal Could Mean For Businesses
As we become mostly transitioned to working from home (WFH), it makes many of us wonder if this will be our new normal. Can things ever really go back to how they were? One thing we are learning is that the new normal requires a new mindset.
The work-life balance has been a hot topic of discussion lately as many people WFH find themselves extending their workdays, while others are realizing how many hours they spent away from home. Whether at the office or at home, work will consume you if you allow it. It's important to set a cut off time every day to help maintain your work-life balance. If you're stressed, stop what you're doing and clear your head.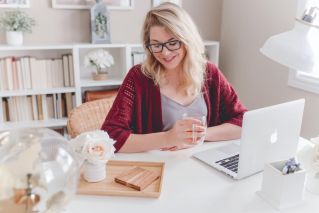 Get used to WFH - you may be sticking with it moving forward.
Could eight hour work days at the office be a thing of the past? WFH has shown each of us how many hours we are away at work - the second largest chunk of our day aside from sleeping. As a result, many business owners could seriously be considering fewer hours worked in the office and more worked from home. Being around pets, family, and in your own comfort space can work wonders on the mind.
How have you been adapting to the new virtual meetings? It's time to get used to "can you hear me?" as virtual meetings could be something that sticks around, not just for those who work with others long distance but also those who continue to regularly work from home once the quarantine lifts. Video chat is a great way for teams to stay in contact and on the same page. 
On the flip side, there is talk of businesses reopening soon. What kind of health and sanitary guidelines must be followed to ensure a safe environment? This could mean anything from regularly wearing gloves and masks, temperature checks upon arrival, or limiting the number of people inside. Consider which ramifications you'll want in place for your business if you choose to open your office/location up to your employees or the public. Most important, keep your eye on updates from your local government to remain informed on what businesses will need to do if they would like to re-open their locations.
What we're learning about the new normal is that we need to be on our toes and remain informed. The only way we'll get through this is together.